Evod Pro V2 Starter Kit • 4ml 2500 mAh All in One
The EVOD Pro V2 features a 2500mAh built-in battery, and the 4ml pyrex glass tank is replaceable, top adjustable airflow is also applied. It is also designed for mouth to lung style vapers and utilizes the CLOCC atomizer heads.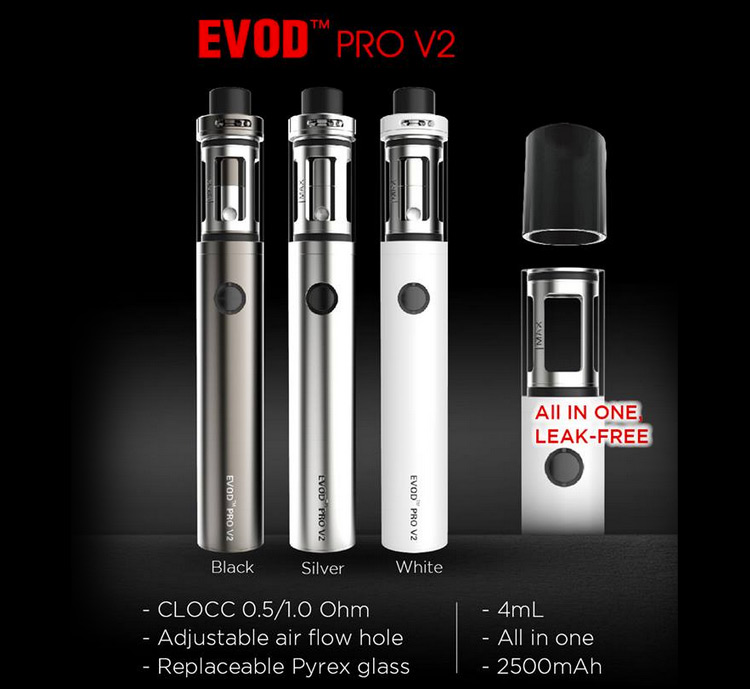 Features:
1. Top fill design
2. Simple one button design
3. Designed for a mouth to lung vaping experience
4. Compatible with CLOCC atomizer heads (1.0ohm coil pre-installed)
5. Replaceable 4ml glass tank,
6. Build in battery 2500mAh.
7. Top adjustable airflow
Compatible coils: Available here
A. CLOCC SUS316L Coil (0.5ohm) DTL
B. 1.5ohm Nichrome CLOCC MTL
C. 1.0ohm CLOCC MTL
Brand: KangerTech
Unit: 1 set
Color: Black/White/Silver
Capacity: 4ml
Resistance: 1.0ohm
Threading: 510
Shipping weight: 343g
Package: Gift box
Each set contains:
1pc EVOD Pro V2 Kit (1.0ohm Nichrome CLOCC pre-installed)
1pc Micro USB cable
1pc User manual