eVic VTwo Mini Starter Kit w/ Cubis Pro tank
Joyetech eVic VTwo Mini and Cubis Pro Full Kit

Joyetech's new eVic VTwo Mini Full Kit combines the newly updated eVic VTwo Mini platform, which features V4.02 firmware that introduces a plethora of useful UI updates paired with consistent and capable wattage and temperature controlled output, with the new Cubis Pro, which retains many of the same ergonomic elements of the original Cubiswhile implementing upgraded airflow, top filling, and new coil structures. The eVic VTwo Mini features a streamlined, simple, yet visually attractive chassis which features a durable stainless steel 510 connection alongside oversized adjustment buttons and a large vertically orientated screen. Output of the eVic VTwo Mini is powered by a single 18650 battery (sold separately), powering up to 75W along with a 0.1 to 3.5 ohm atomizer resistance range. Joyetech's sophisticated temperature control suite has integrated support for Ni200 Nickel, Titanium, and SS316 heating elements along with an adjustable three memory TCR mode, with a temperature output range of 200 to 600 degrees Fahrenheit. The 0.96 inch OLED display screen features a beautiful and brilliant display and, with the new RTC display modes available in V4.02, allow for a diverse range of user interface options.

Paired with the device is the Cubis Pro which integrates useful and much requested improvements upon the original Cubis platform, including additional airflow and top filling options. Airflow has been expanded to five 2mm by 1mm vertical airslots on each side of the top of the tank chassis, and is adjusted by twisting the top cap. While the Cubis Pro can be filled in the same method as the original Cubis, Joyetech has now integrated a dual fill port feature built into the 510 drip tip base, allowing users to fill the reservoir without having to remove the entire top and coil assembly. Additionally, new coil structures are now included with the full kit, including the QCS (Quick Change System) Coil which allows users to rewick and reuse the NotchCoil within, and the LVC (Liquid Valve Control) Coil that features an adjustable ring to throttle the coils' wicking ports. Finally, the 0.25 ohm NotchCoil DL included provides an excellent showcase of the NotchCoil designs capability with a 25 to 70W range. Combining an affordable yet full featured compact system, Joyetech's eVic VTwo Mini and Cubis Pro Full Kit is a pairing specifically designed to work flawlessly together.

eVic VTwo Mini Features:

1 to 75W Output Range

0.1 to 3.5 ohm Atomizer Resistance Range
Firmware Upgradeable
Bypass Mode

Temperature Control Suite

Ni200 Nickel Support
Titanium Support
SS316 Support
Adjustable Three Memory TCR

Fine Tune Temperature Output

200 to 600 degree Fahrenheit Range
0.05 to 1.5 ohm Atomizer Resistance Range

V4.02 Firmware Installed

Real Time Clock (RTC) Display Mode

Elegant and Useful Display Mode
Vertical Stack of Analog Clock or Digital Clock
Output Readout
Atomizer Resistance
Battery Life Indicator

Clock Screen Protection
Custom Logo

Dual Magnetized Battery Door

Single 18650 Battery Powered
Micro USB Charge Port
Battery Sold Separately

Choose your battery below:


0.96 inch OLED Screen

Vertical Arrangement
Output Temperature
Output Wattage
Output Voltage
Material and Mode Selection
Atomizer Resistance
Output Current
Battery Life Indicator
Stealth Capability
Rotating Screen
Adjustment Lock

Stainless Steel 510 Threadpoint

Square 24K Gold Plated 510 Connection

Cubis Pro Features:

22mm Diameter
Dual Top Fill Methods

Classic Cubis Pour to Fill
TFTA Fill Method
4ml Tank Capacity

Top Airflow Control

Five 2mm by 1mm Vertical Airslots per Side
Adjusted via Top Cap

New Coil Systems

QCS Coil

Quick Change System
Removable Exterior
Rewickable NotchCoil

LVC Coil

Liquid Valve Control
Adjust Wicking Rate
1.5 ohm Clapton Configuration
8 to 20W Range

NotchCoil DL Coil
BF SS316 DL

Stainless Steel and Glass Construction

Product Includes:

One Joyetech eVic VTwo Mini
One Cubis Pro Atomizer

One QCS Coil
One NotchCoil 0.25 ohm DL
One BF SS316 0.5 ohm DL
One LVC Clapton 1.5 ohm MTL
Two Drip Tips

One eVic VTwo Mini Silicone Sleeve
One Micro USB Cable
User Manuals, Warranty, and Warning Cards
eVic VTwo Mini with CUBIS Pro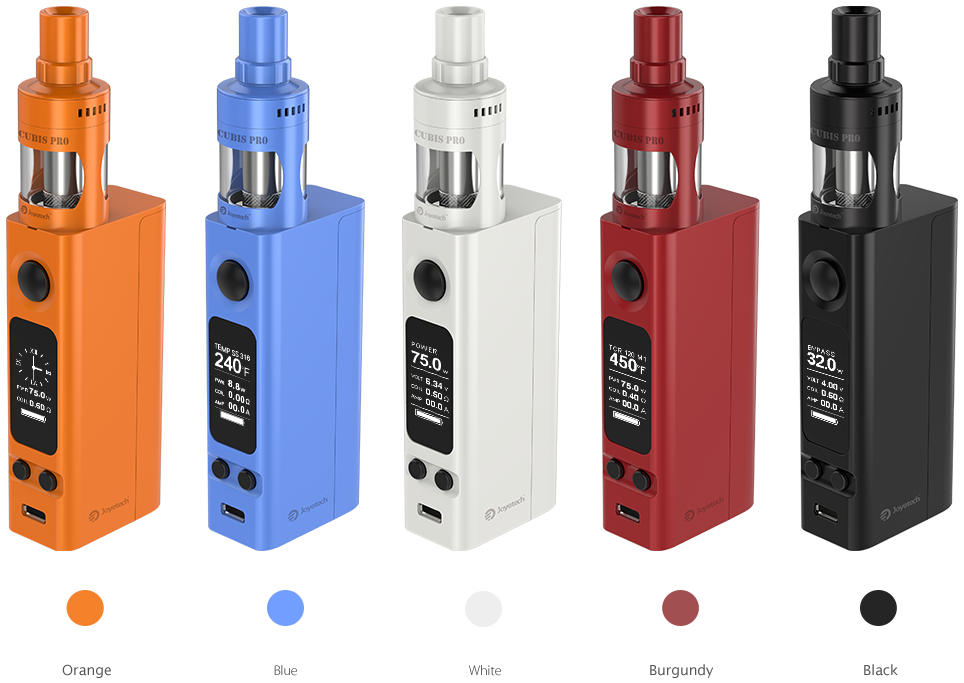 CUBIS Pro atomizer perfectly fits the new eVic VTwo Mini, having the new Firmware V4.02 supporting Custom Logo and RTC (Real Time Clock) display with clock screen protection. It is powered by interchangeable 18650 cell with magnetic cover. E-juice filling can be easily achieved by simply removing the top cap and injecting into the side holes. The innovative CUBIS Pro with leak resistant cup design allows you to enjoy the best vaping experience ever.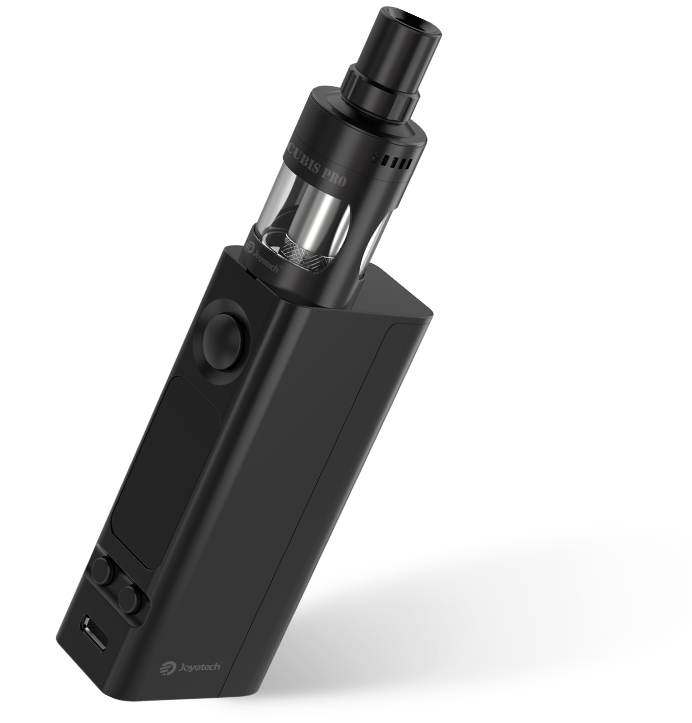 Standard Configuration:
1 * eVic VTwo Mini Battery (without cell)
1 * CUBIS Pro Atomizer
1 * QCS Coil
1 * NotchCoil
TM
0.25ohm DL .
1 * BF SS316-0.5ohm DL .
1 * LVC Clapton-1.5ohm
1 * Mouthpiece
1 * eVic-VTC Mini Skin
1 * USB Cable
1 * Manual and Warranty Card
1 * Warning Card

Newly Added QCS Head and LVC Head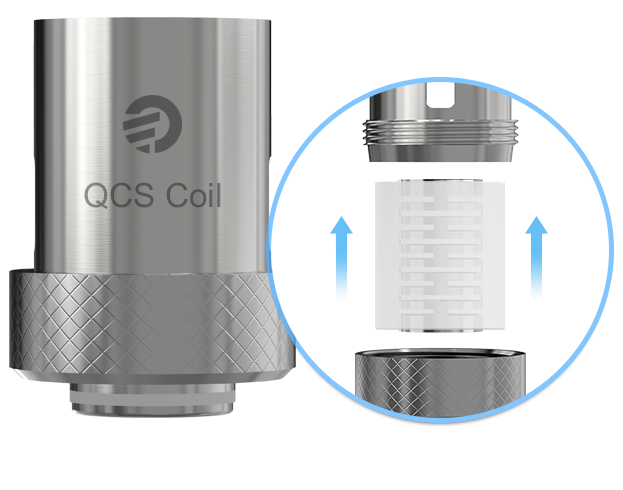 New QCS (Quick Change System) coil enables to change the cotton easily.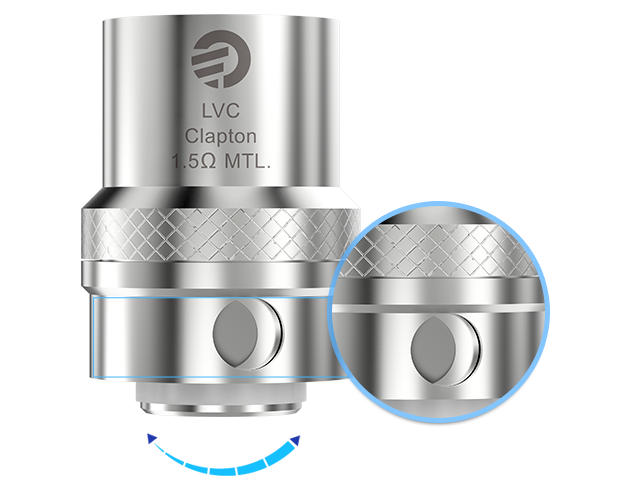 New CUBIS LVC (Liquid Valve Control) Clapton-1.5ohm head applies the liquid valve control system. Simply rotate the ring on the base to adjust the valve.
Top Filling And Top Airflow Control
We redesigned the refilling structure which enables you to refill the e-juice with great convenience.
Simply uninstall the top cap from the airflow ring, then inject the e-juice into the two side holes (not the vent pipe) directly.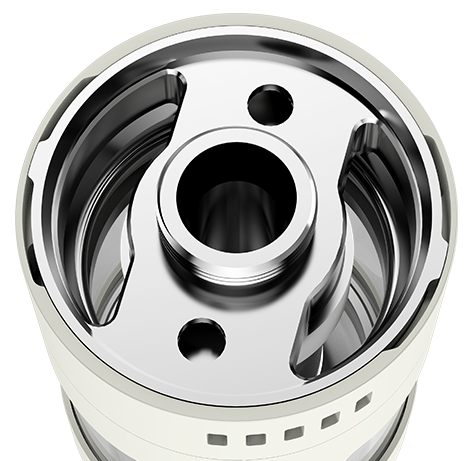 Detachable and Washable Structure
With its special structure, CUBIS Pro Atomizer can be easily detached and is able to wash separately.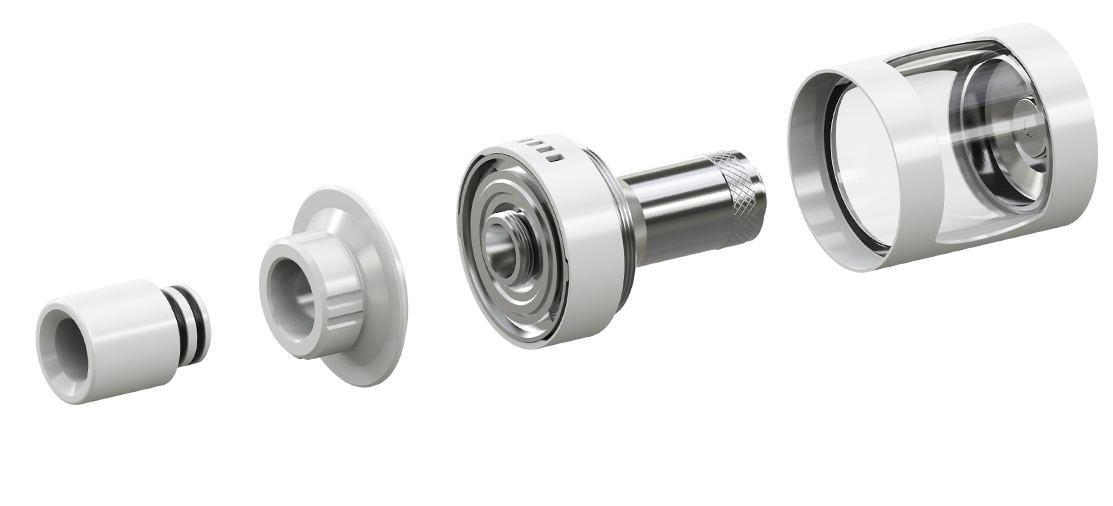 eVic VTwo Mini applies two sets of battery protection circuit system, realizing overall battery protection of over-charging,
over-current and over-discharging, which makes it more safe and reliable.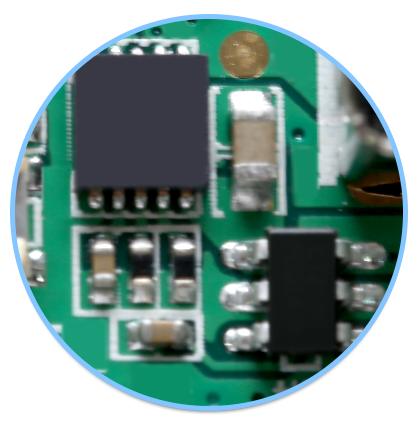 RTC(Real Time Clock) display
RTC-Real Time Clock enables eVic VTwo Mini to present you time in two kinds of method.
A. In general interface, it presents both Dial Display and Numerical Display.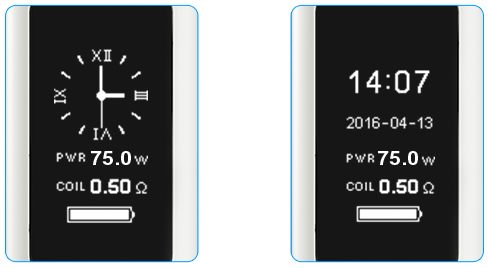 B. In screen protection, it shows you real time in Dial Display.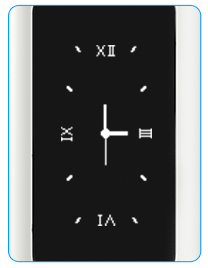 Innovative Leak Resistant Cup Design
The completely leak resistant cup-style tank reservoir allows the top section and coil to be removed and as one solid unit.
Coil replacement and juice fill can be achieved by removing this top section from the cup.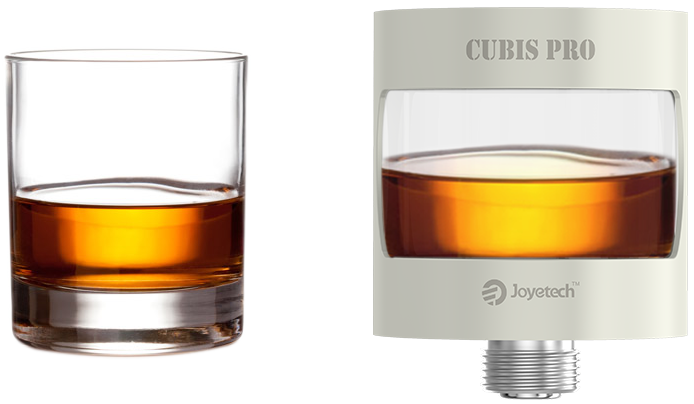 NotchCoilTM 0.25ohm DL. Head
We also recommend the NotchCoilTM 0.25ohm DL. (Direct Lung) head which lasts longer and can be used under high wattage condition.
It will surely bring you great vaping experience ever.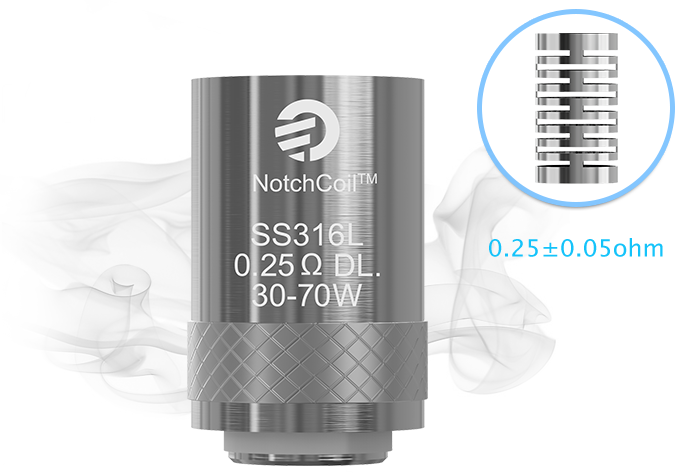 eVic VTwo Mini comes with upgradeable firmware.
Having Version 4.02 for eVic VTwo Mini, new interface, multiple modes and functions are available.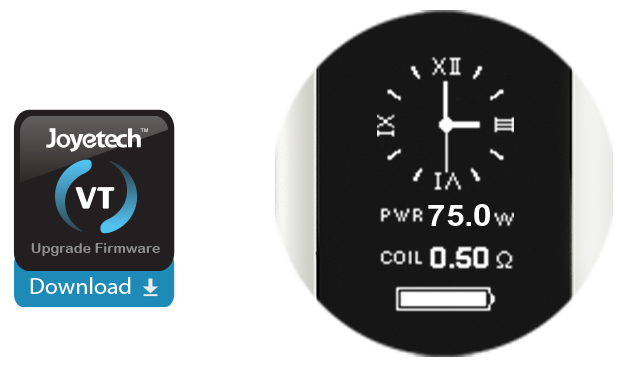 Replaceable Battery and Magnetic Battery Cover
eVic VTwo Mini is powered by one replaceable 18650 battery, which makes it flexible to use.
We kindly recommend high-rate 18650 cells with rated discharge current ≥ 25A.
Magnetic battery cover makes changing your battery quicker and more convenient by pulling the cover down.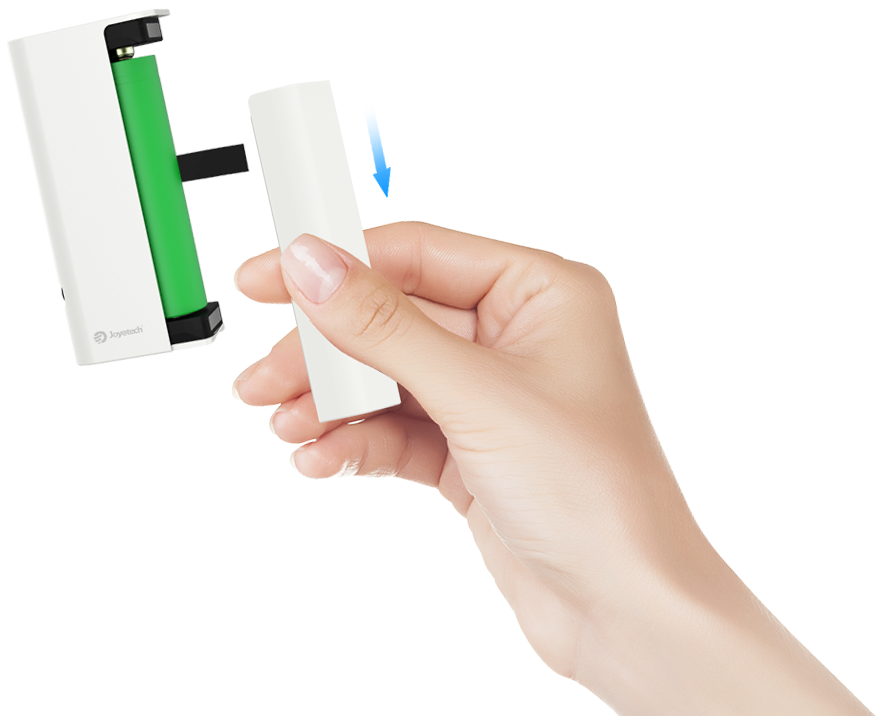 Applied with exquisite 510 Thread
Stainless thread with spring connector
The micro USB port is on the top of the right side. Simply charge eVic VTwo Mini by connecting it with the wall adapter or a computer via USB cable.
The battery is charged as shown in the picture. When it is fully charged, the charging bar will disappear.