Eleaf iStick Basic Kit • 2300 mah w/ GS Air 2 tank
The Eleaf iStick Basic Full Kit is an all inclusiive starter kit that brings the revolutionary and extremely popular iStick design into the most affordable and easy to use platform, featuring direct output voltage, an integrated 2300 mAh battery, and an inset GS Air 2 Atomizer with fully adjustable airflow and a 2ml capacity in a petite and extremely portable form factor. The Eleaf iStick Basic draws upon the foundation of the iStick series, built on a chassis that is fundamentally grounded in providing an ergonomic and easy to handle design while greatly simplifying output with a direct output voltage system. The result is a single button operated device in which the greater the battery life, the greater the output voltage, minimizing adjustment issues and establishing one of the easiest plug and play platforms today. The iStick Basic also introduces the first utilization of Eleaf's Magnetic Connection system, in which the 510 or included eGo adapter attaches to the base of either the included GS Air 2 Sub-Ohm Tank or compatible 14mm diameter tanks, and establishes solid and consistent connection without the need for threading. This greatly minimizes downtime between tank removal, adjustment, and general maintenance while allowing for the form factor to be greatly minimized. Featuring a 2300 mAh integrated battery and Easy Access Micro USB Port, the iStick Basic pairs perfectly with the included GS Air 2 Sub-Ohm Tank, which features dual adjustable slotted airflow alongside an ample 2ml tank capacity. The GS Air 2 utilizes the new GS Air Atomizer Head, measuring in at 0.75 ohms for a balanced output, alongside pure organic cotton for clean flavor recreation. With a compact, simple, and elegant overall design coupled with hassle free operation and an innovative connection, the iStick Basic Full Kit makes for a discreet and portable set that is perfect for beginners or as an every day carry.

iStick Basic Features:

Slim Profile and Elegant Design
2300 mAh Battery Life

Charged via Easy Acces Micro USB Port
1A Charging

0.4 to 5.0 ohm Atomizer Resistance Range
Direct Output Voltage

Output Voltage Directly Tied to Battery Life

Magnetic Connector

Eliminates Hassle of Tank Removal from iStick Basic
Allows for Efficient Utilization of Form Factor
Attaches to Any 14mm Tank
Includes Magnetic eGo Adapter
GS Air 2 Sub-Ohm Tank:
14mm Diameter
2ml Tank Capacity
Dual Slotted Adjustable Airflow
0.75 ohm Kanthal Coil

Organic Cotton for Pure Flavor Recreation

Easy to Remove and Adjust with Magnetic Connector
Product Includes:
One iStick Basic Mod
One GS Air 2 Sub-Ohm Tank
Two 0.75 ohm Kanthal GS Air Atomizer Heads
One Magnetic 510 Connector
One Magnetic eGo Connector
One Micro USB Cable
User Manual
Product Introduction:
The iStick basic with the GS Air 2 atomizer(14mm) is a new starter kit from Eleaf. Not only does the iStick basic have a large battery capacity of 2300mAh, it also features its innovative magnetic connector for ease of using with all 510/eGo atomizers of 14mm diameter. With a fashionable metallic appearance, the iStick basic also comes with many attractive colors for your options.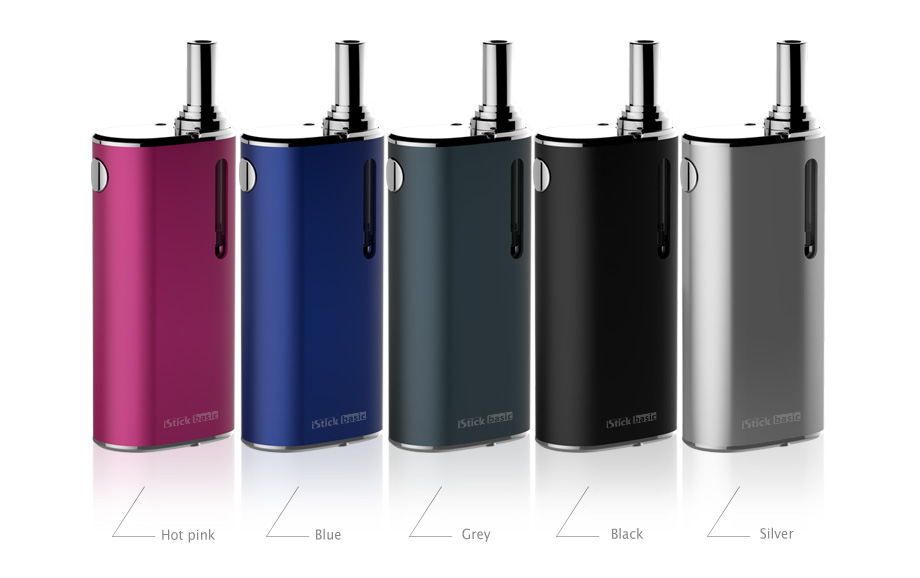 Full Kit Comes With:
1×iStick basic Body
1×GS Air 2 Atomizer(14mm)
2×GS Air Atomizer Head(0.75ohm)
1×510 Connector
1×eGo Connector
1×USB Cable
1×User Manual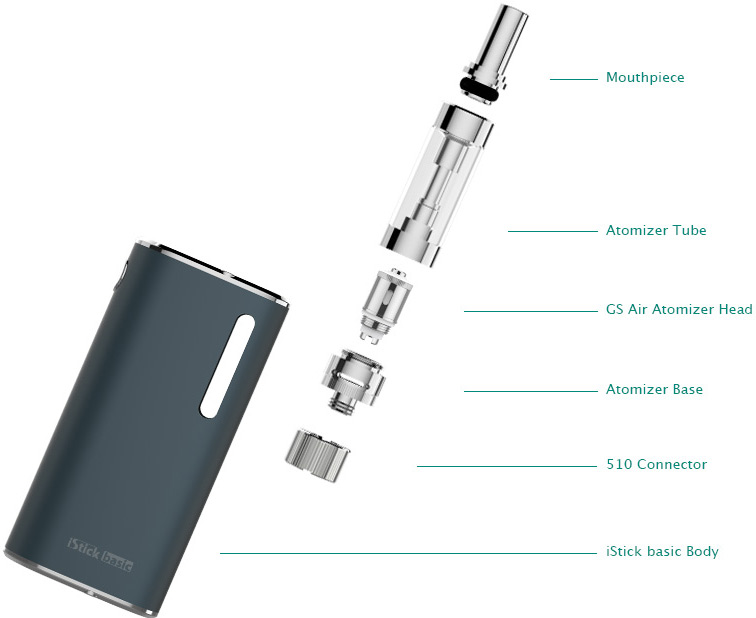 Features:

1) Innovative magnetic connector is first introduced in the iStick basic, making the device compatible to all 510/eGo atomizers with a diameter of 14mm.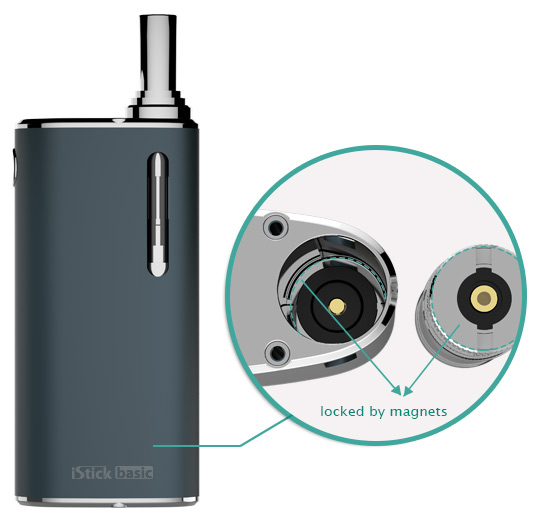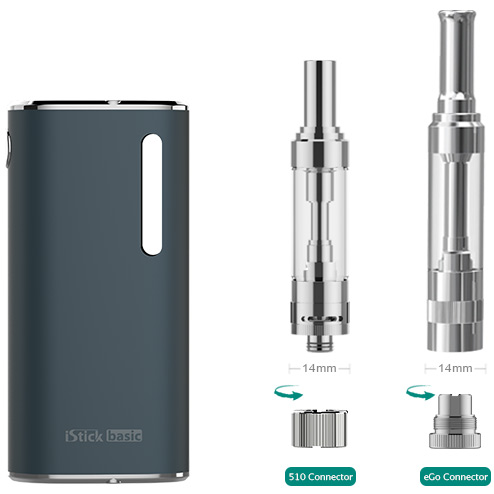 2) Being exquisite and fashionable in appearance, the iStick basic comes with a large battery capacity of 2300mAh.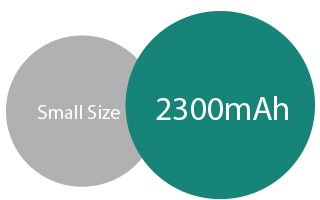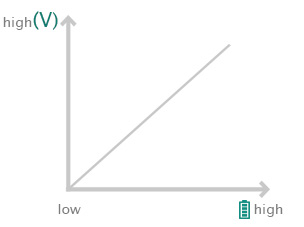 3) Direct output voltage system is applied in the iStick basic. The higher the battery level, the higher the output voltage.
4) The e-liquid level can easily be noticed by a simple glance at the window.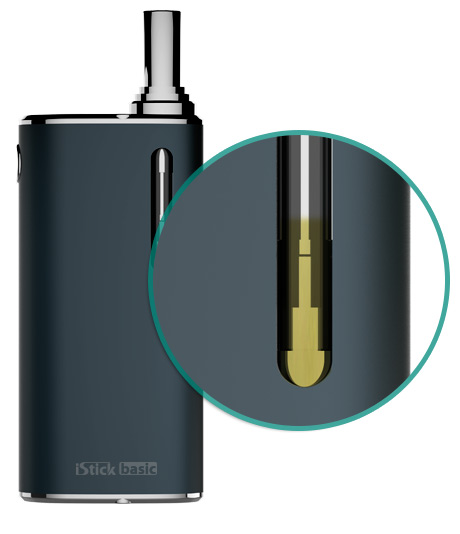 5) The air inflow can be adjusted with ease by rotating the flexible airflow control ring in the GS Air 2 atomizer.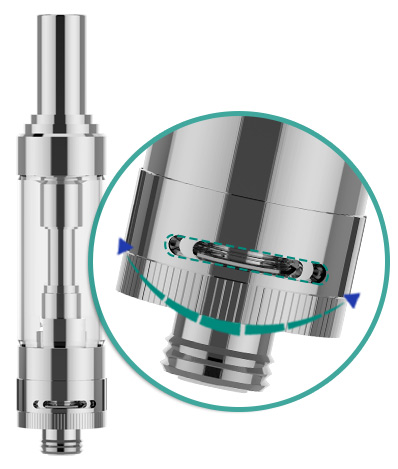 6) A new GS Air atomizer head (0.75ohm) with pure cotton wick is applied in the iStick basic. There are three types of atomizer heads for your options.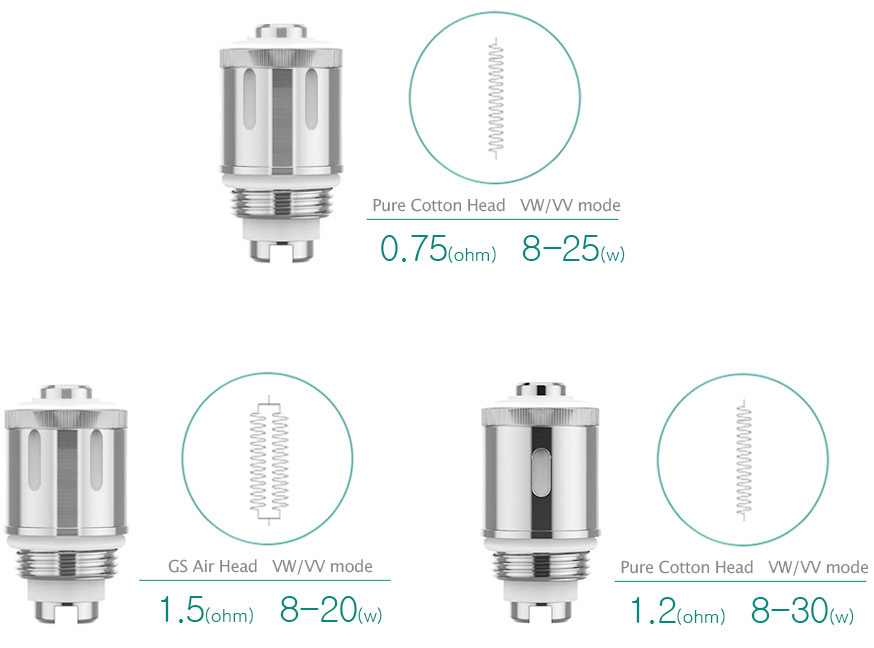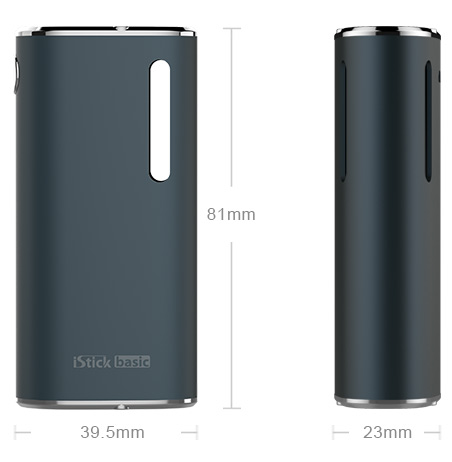 Parameter:
For iStick basic:
Capacity: 2300mAh
Size: 39.5mm*23mm*81mm
Resistance: 0.4ohm-5ohm
Connector type: magnetic connector
Color: black, silver, grey, red, hot pink, blue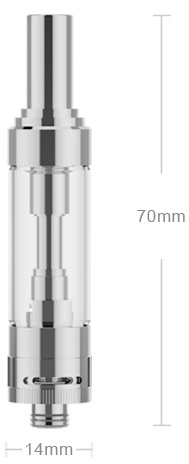 For GS Air 2 Atomizer(14mm):

Diameter: 14mm
Length: 70mm
Capacity: 2ml
Thread type: 510 thread
Color: silver

How to charge?

The iStick basic can be charged through USB port on the side of the device. It will take about 3 hours to get a full charge via 1A wall adapter.
The button light will turn red when the device is charging and the light will go out when fully charged.