Aspire Atlantis Evo Subohm Tank • Extended Kit 4ml
The Aspire Atlantis EVO represents the zenith of recent sub-ohm tank evolution. Double wicking efficiency teamed with lower positioned wick points create ultra-efficient juice flow. This optimized design allows high VG E-liquid an even faster route to the coil system. EVO breathes without a hitch when you require thick dense vapor production. EVO tank kit includes 0.4ohm and 0.5ohm coils for optimized vaping experience.

The 4ml version contains an Atlantis EVO 2ml Tank, a 4ml pyrex glass tank & a 4ml adapter, allowing you to run this as a 2ml or 4ml tank.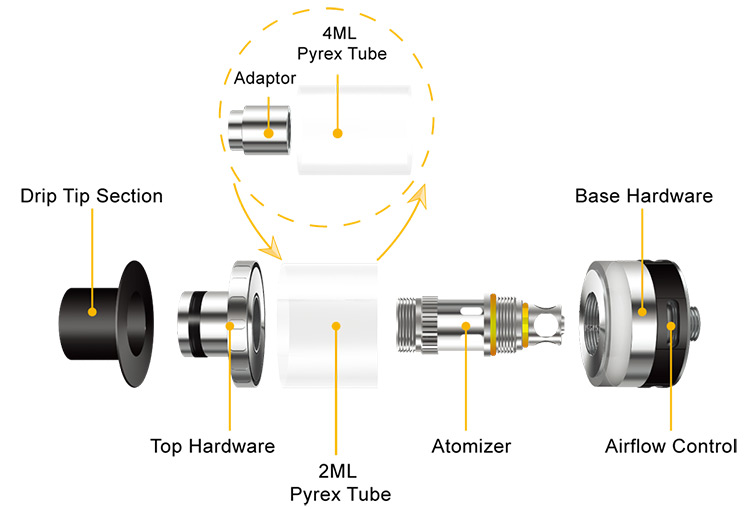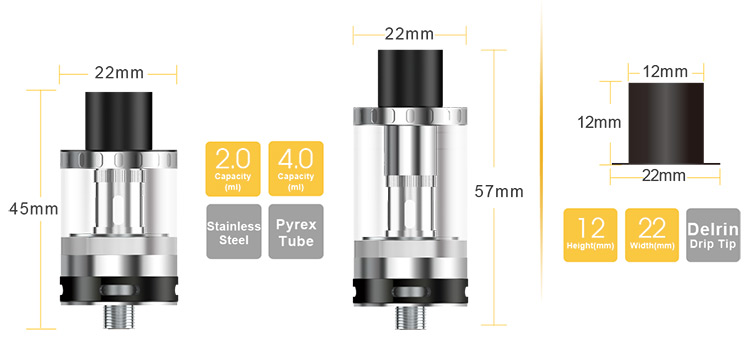 Featrues:
1. Adjustable airflow
2. Top filling
3. 4ml e-juice capacity
4. Ultra-efficient wicking with thicker VG E-liquid
5. Increased airflow for premium cloud production
6. Great flavor on a wide range of juices
Compatible coils:
Clapton coil: 0.4ohm (40-50W)
Clapton coil: 0.5ohm (35-40W)
Brand: Aspire
Unit: 1 set
Material: Stainless steel & Pyrex glass
Size: Height 57mm; Diameter 22mm
Capacity: 4ml
Color: Black
Resistance: 0.4ohm/0.5ohm
Threading: 510
Shipping weight: 85g
Package: Crystal box
Each set contains:
1pc Aspire Atlantis EVO 2ml tank (0.4ohm pre-installed)
1pc Replacement glass tube (4ml)
1pc 4ml adapter
1pc 0.5ohm replacement coil
1pc Rubber cuff (black on Silver & Black units, Blue on White Units)